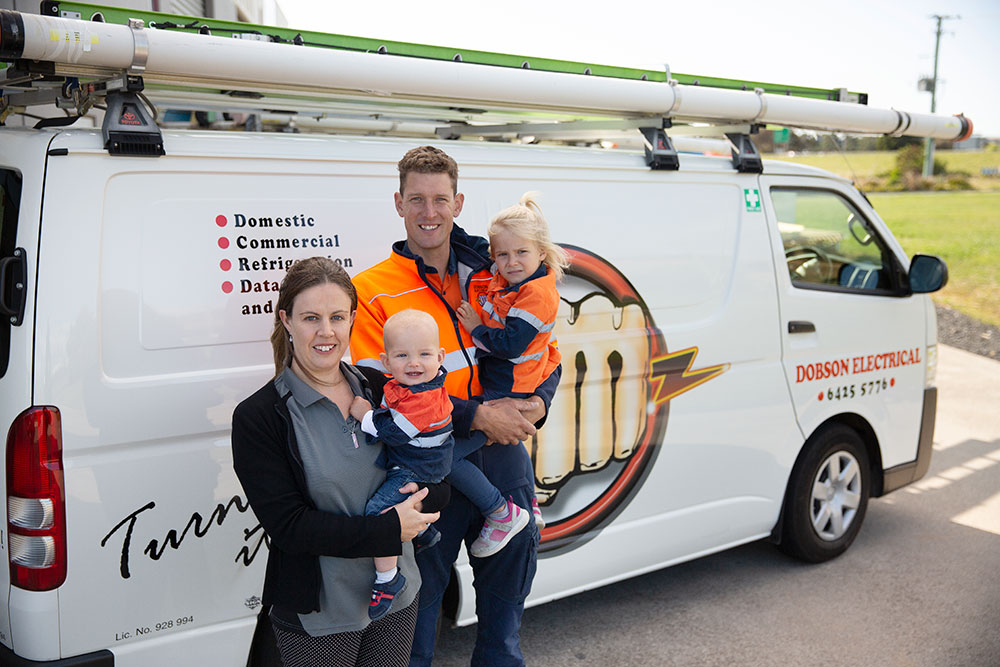 DOBSON ELECTRICAL
Dobson Electrical is a proud, locally owned and operated family business. Dobson Electrical was established in 1981 by Neville and Marijke (Mary) Dobson and changed over Ownership to Ben and Simone Dobson in 2013.
Ben is Neville and Mary's youngest son and together with wife Simone- they are enthusiastic to carry on the legacy of:
Providing Quality Electrical Services for the North-West Coast
Ongoing Commitment to the Training of Apprentices
Be active/ supportive members of the local community
Dobson Electrical operates from convenient premises close to the highway on the outskirts of Ulverstone in the North West of Tasmania. From this location Dobson Electrical can service areas from Shearwater, Sassafras and Latrobe area right through to Burnie, Wynyard and surrounds Dobson Electrical's friendly and reliable Technicians and Apprentices have the ability and expertise to carry out work in all areas of Electrical, Data, Communications and Security. No job is too small!
The Dobson Electrical Team looks forward to working with you on your next electrical project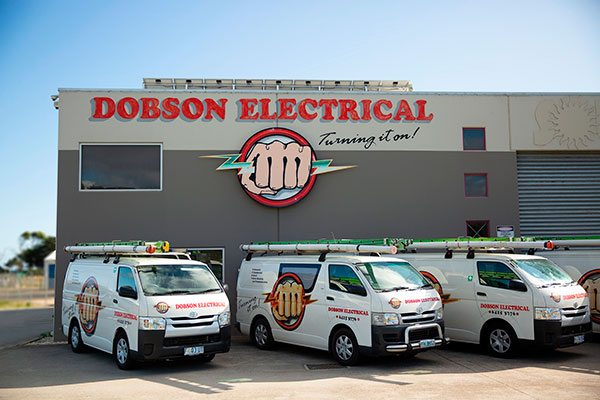 It's been seven years today since we took the leap in taking over Dobson Electrical from Ben's Parents. Did we know the challenges we would face to maintain the reputation built up over nearly 30 years? The simple answer is no!
Most recently the COVID pandemic (no one could be prepared for this impact in 2020), but also farewelling amazing staff, hiring of new staff, supporting staff through life's challenges (births, deaths and marriages), changing the business to meet the demand of the day, adapting for the arrival of our babies and managing challenging jobs. Add to that – cash flow challenges, software upgrades, the always-changing TAFE system, training of apprentices, keeping up with product and standards changes plus all the other things that get thrown at any business owner on a daily basis!
So, you must wonder why Ben and myself do this business owner thing!
In the seven years we have been custodians of Dobson Electrical, we have had so many reasons to smile and be grateful.
Firstly, we have the pleasure of working every day with wonderful staff – both past and present, who are all considered our family. Also the mentoring of numerous apprentices, which we continue to do – it is something personally that I get a lot of satisfaction out of – signing up a fresh-faced, shy teenager (in most cases) and watching them grow in confidence and skills until they are out in a van and getting wonderful feedback from their own clients – four years does go fast when watching an apprentice develop.
Our fabulous clients – some that have remained loyal to Dobson Electrical for 30 plus years and have become friends to us or our staff. No job is too small and it is this reason that our customers keep coming back and it is great when we can deliver and have a happy client – be that a new house, a small renovation or a new stove or light fitting. I personally love hearing from a satisfied client that is happy in their electrical works- it can make a bad day turn around instantly.
The opportunities it has given both of us to participate in future of the North-West of Tasmania – we were both born and raised here and I couldn't imagine ever living anywhere else. Ben's involvement in the Coastal Business Network weekly networking breakfasts and my ongoing participation in the Central Coast Chamber of Commerce and Industry has helped both of us to grow, be a part of the community and be alongside other excellent business leaders that face similar stories. I believe if businesses work together it will benefit the whole region and I enjoy learning of other business's successes
Dobson Electrical has always supported schools offering work experience programs and take the responsibility of enabling young people to work out their future careers very seriously. Working alongside schools to make work experience happen and then offering feedback can hopefully help to prepare the future workforce for all the North-West Coast. Receiving feedback that a student has enjoyed their time, learned something new or really wants to follow this career path is always nice to hear.
Having both the kids growing up and being a part of the business with us makes me happy I am getting the work/life balance that I want. If anyone has been to our workshop you will see our front showroom is more like a childcare centre than a tradie workshop. The kids enjoy greeting the customers and helping the tradesmen (and pinching their lunch). Being flexible to be with Holly and Bradley during the day and taking them to playgroup or the park – and then being able to catch up on work commitments after they go to bed is one of the greatest benefits of the business rollercoaster.
Lastly, the most rewarding aspect of business ownership, is I get to do it with Ben. When we met as 18-year olds – both undertaking very different career paths – Ben, a mechanic, and myself at the Tascot Carpet Factory, never would I have imagined we would be working together, keeping a business operating. Many people comment "I couldn't work with my husband, wife, partner", but me, I couldn't think of working without him. Yes, we have some things we don't agree on, and some days can be hard (not very many really – when I think back on the seven years) But we are a team and support each other, celebrate our achievements and set goals together. Ben is out on jobs most of the time and myself in the office – so it is not that we are working in each other's pockets – but it always gives me and the kids a buzz when Ben arrives at the workshop, or if he stops in for lunch – something we couldn't share if we didn't work together. Holly loves jumping in with dad to do a quick oven repair or hot water element change on the way home and the kids both understand dad goes off to jobs and helps people. I hope together we are leading by example for our kids to be ambitious in whatever they choose and never give up.
Business is hard – but so rewarding in many areas. I have so much to be thankful for as I sit and reflect on the last seven years and plan for the next seven!
Happy Birthday to us – and thank you to anyone that has supported Ben and myself in any way over the last seven years – our amazing Dobson Electrical team, our clients, our parents and families, other business owners, our accountant, my midwife, our valued suppliers and anyone else I may have missed.
Dobson Electrical chooses the following trusted brands: